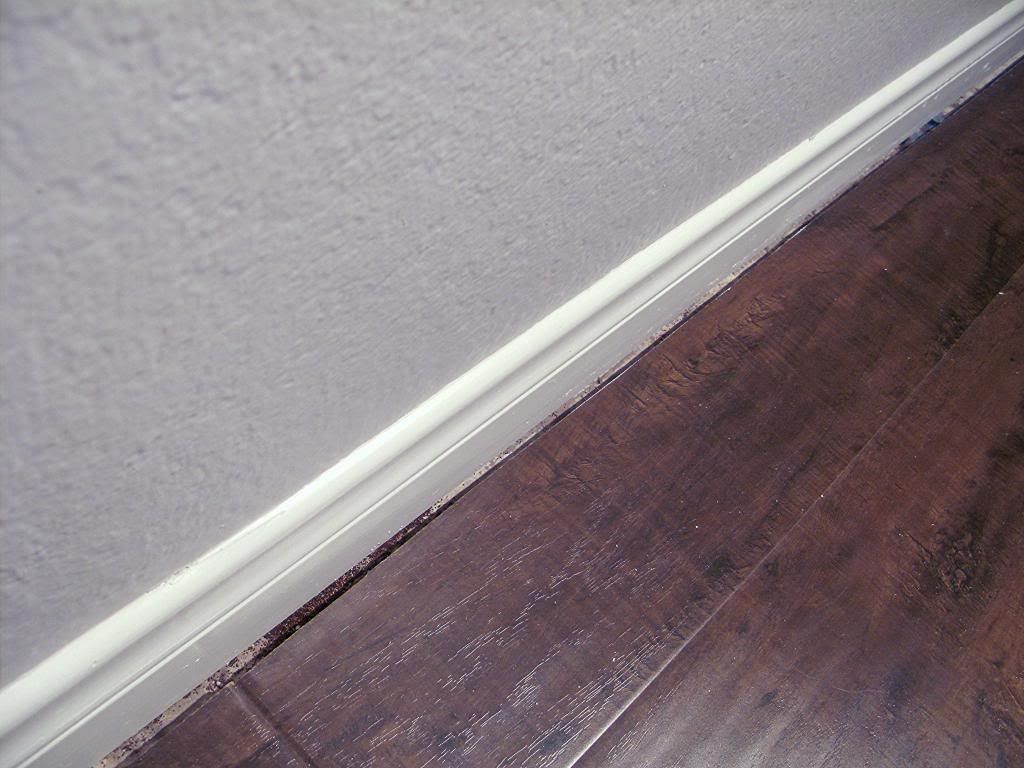 See that little gap between the floor board and the floors?
Gap be gone.
Well, hello there! I promise that I have been keeping up with my project per week, I just haven't been getting around to posting the projects...This is probably the most boring post I've ever done, but it is a mini-update on the office.
I finally finished installing the shoe molding! I thought that this was going to be such a cheap and easy project that would just take one little Saturday. I was so wrong. It was just one thing after another--I bought the wrong shoe molding, then went back to Home Depot to buy the right shoe molding, but the guy who could cut it for me was off in about 4 minutes. So, I went back to Home Depot the following weekend and found out that they didn't even carry the shoe molding that I needed. The guy referred me to a local lumber store that definitely carried what I needed. When I got to the lumber store, they had been closed for an hour and a half. So, I finally made it to the lumber store while they were opened, purchased and painted the correct shoe molding, then started to install it and realized that I wasn't going to be able to do it without a drill. So, J and I drove over to Home Depot on a Sunday night to purchase a drill. We bought a nice little cordless drill, got it home and found out that it had to charge for 12 hours before it could be used.

Now that I know exactly what I need and have all of the tools, installing the shoe molding in the rest of the house will be a very simple little project...Shoe molding is such a little thing (and so inexpensive--the molding for this room came to a grand total of $12.61!), but it has such a big impact. The room looks so much more finished. I can't wait to get this done throughout the house!