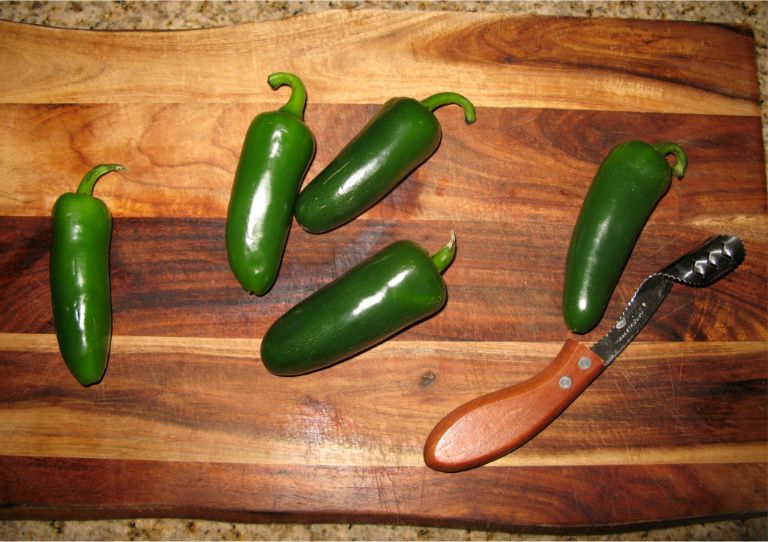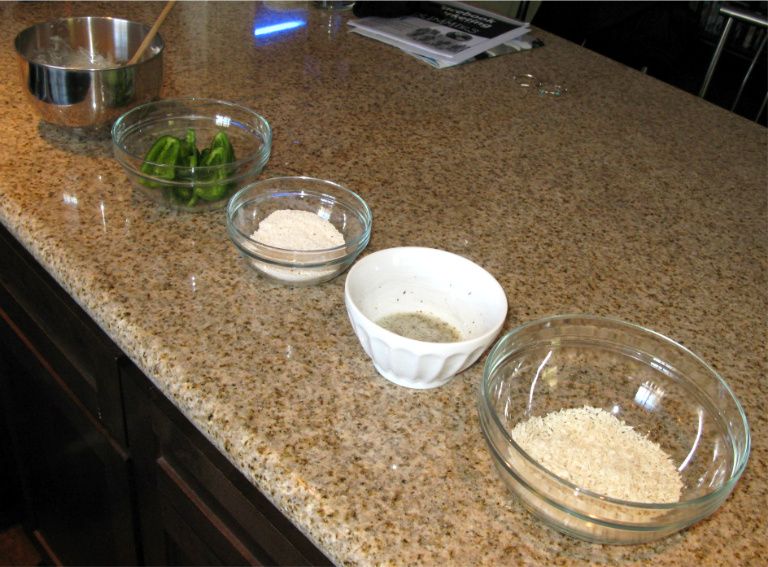 I love jalapenos. I love jalapeno flavored anything (have you tried the jalapeno flavored pistachios? they are not for the faint of heart). I love jalapenos on nachos and on pizza. I love jalapenos in things like scones and cornbread.
I have always had a fondness for jalapeno poppers and made many late night runs to the 24-Hour Jack In the Box drive-thru to satisfy a cheesy/spicy/crispy craving. Unfortunately, I no longer feel at liberty to enjoy deep fried anything, so I did some searching for a baked/healthy alternative for jalapeno poppers and found this
Food Network recipe from Emeril
. I modified the recipe
very slightly
, so I'll post my modifications below.
Fortunately jalapenos are really cheap (Trader Joe's sells a little box for $0.99), and they are good for you! I just read somewhere that jalapenos (and I assume other spicy foods) boost metabolism.
Baked Jalapeno Poppers
Yields 10 jalapeno halves
5 fresh jalapeno peppers, halved lengthwise, stems, seeds and membranes removed
3 oz. light cream cheese
3/4 cup grated light mozzarella cheese
1/4 t. ground cumin
1/4 t. cayenne (use more or less to your taste)
1 large egg white
1 T. almond milk
4 t. Trader Joe's 21 Seasoning Salute
1/2 c. panko crumbs
1/4 c. whole wheat flour
Preheat oven to 350 degrees. Lightly grease a baking sheet and set aside.
In a bowl, cream together the cream cheese, mozzarella cheese, cumin, and cayenne.
In a small bowl, beat together the egg white, milk, and 1 teaspoon of the 21 Seasoning Salute. In a third dish, combine the flour and remaining 1 teaspoon of 21 Seasoning Salute. Spread 1 tablespoon of the cheese mixture into the middle of each jalapeno half. One at a time, dip into the egg mixture, dredge in the flour, dip into the egg mixture again, then dredge in the panko crumbs, pressing to coat.
Place the coated peppers, cut side up, on the prepared baking sheet and bake until the filling is runny and the crust is golden, about 30 minutes.
Remove from the oven and serve immediately with cold beer.
NUTRITION FACTS:
Each jalapeno half contains: Calories 75, Calories from Fat 32.2, fat 3.58g, Saturated Fat 1.55g, Cholesterol 10.5mg, Sodium 159.58mg, Total Carbohydrates 5.6g, Dietary Fiber .74g, Sugars 1g, Protein 5.52g