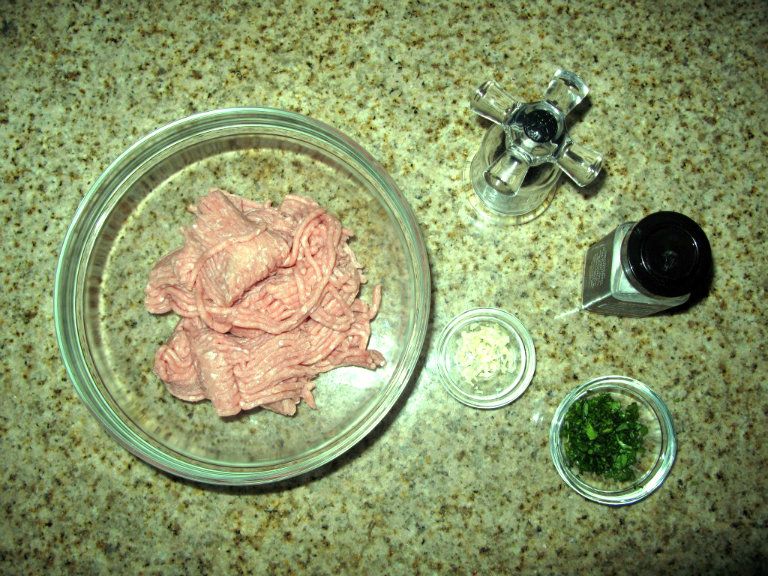 This recipe is from a cookbook that my mother gave to me years ago. I love it, but I have to admit that I've only made a few things from it. I should definitely change that because so far I have loved the recipes that I've actually tried. The cookbook is
Gourmet Meals in Minutes
from
The Culinary Institute of America
.
These burgers are absolutely delicious and so easy--a great meal to add into your summer meal rotation. Because there are only two of us, I typically make the full recipe and throw half of them into the freezer to be used in the future.
Turkey Burgers
Makes 8 Servings
2 pounds lean ground turkey
2 garlic cloves, minced
1/2 t. salt, or to taste
1/4 t. freshly ground black pepper, or to taste
2 T. parsley, chives, or basil, chopped (I usually use a mix of parsley and basil)
2 t. vegetable oil
8 slices provolone or Monterey Jack cheese
8 whole grain hamburger buns, toasted
Garnishes (whatever you like on your burger!)
Preheat the grill. Gently blend the ground turkey with the garlic, salt, pepper, and herbs. Shape into 8 patties and chill in the refrigerator until the grill is very hot.
Brush the grill rods with the oil. Grill the turkey burgers on the first side until browned, about 5 minutes. Carefully flip the burgers over, and grill on the second side until browned and cooked through, another 5 minutes. Top with the cheese during the final 2-3 minutes of grilling.
Serve the burgers on the toasted buns, topped with garnishes of your choice. We like avocado, romaine lettuce, ketchup, and whole grain mustard.