Getting the iPhone last March was definitely a game changer. I was thinking about how much I thought I loved my BlackBerry before I got my iPhone, and I thought of lines from the movie 10 Things I Hate About You when Bianca was explaining the difference between
like
and
love
:
Bianca: There's a difference between like and love. I mean I like my Skechers, but I love my Prada backpack.
Chastity: But I love my Skechers.
Bianca: That's because you don't have a Prada backpack.
One of the best things about the iPhone is definitely the apps. I narrowed my favorites down to the 10 that I love and use the most:
1. Livestrong.com Calorie Tracker ($2.99)


This is the only app that I have on my iPhone that wasn't free. I've been using livestrong.com to track my daily caloric intake and exercise for years (I started back when it was still The Daily Plate). You can search and track almost every food out there on the market (or at least a generic version of it!), your weight, and any exercise you do. The only function that the website has that I would love to see added to this app is the ability to track how many glasses of water you drink each day.
2. Instagram (FREE)




If you don't already have it, download this one right away. You can snap photos on your iPhone and add fun photo finishes like "Hudson", "Lomo-fi" or one of my personal favorites, "Nashville". Instagram has a fun little community and you can also follow some of your favorite brands like Bergdorfs and Kate Spade. If you would like to follow my Instagram feed, I'm @newsgirl057.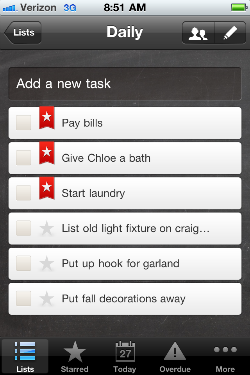 3. Wunderlist (FREE)
Wunderlist is my newest app (downloaded Monday), but it has quickly become one of my favorites. If you know me, you know that I LOVE lists. This is a great app because it eliminates paper and ensures that you (almost) always have your list with you. Wunderlist allows you to create multiple lists (I currently have a daily to do list and my shopping list), and allows you to prioritize tasks within you list. When you check items off, they move to the bottom, then disappear. I feel like I have become significantly more productive since I started using this list app.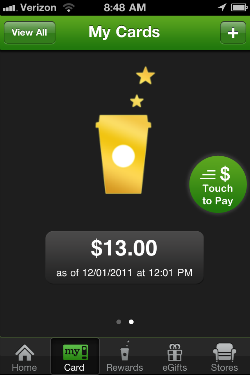 4. Starbucks (FREE)
This is obviously one of my favorite apps. I love that I can pay for my caffeine fix with my phone and instantly see what my balance is and how many more "stars" I need before I earn my next free drink! There is also a store finder feature, so if you're in the need for a Starbucks, you can find out where the nearest one is wherever you may be.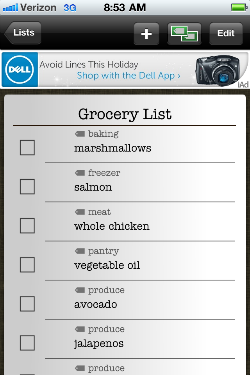 5. Shopping List Free (Grocery List) (FREE)
Another list app? Why? This app allows me to add tags like "produce" and "baking" to the items on my grocery list. I am then able to sort the list by tag so that all of my produce items are grouped together. This saves me a lot of time at Trader Joe's finding my necessities so that I can spend more time browsing new the wine selection and new items like Eggnog Almonds.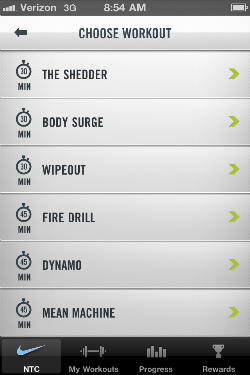 6. Nike Training Club (FREE)
My sister recommended this app to me, and it is amazing! It's basically a free personal trainer. You can choose from a large selection of workouts categorized by 3 different levels of difficulty. You can view the entire workout, clicking on different exercises to see instructions for how to do them. You can add your own music playlist to the workout. When you start the workout, the trainer tells you when to do each exercise, reminds you to keep your core tight, and even gives you the occasional countdown (5 more seconds!). I personally love the 15-minute "Get Focused" sessions like "Butt Buster", "Ab Burner" and "Back Definer." They are killer workouts that are totally doable and enjoyable.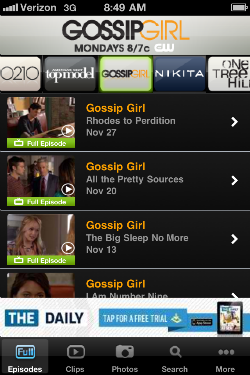 7. The CW Full Episodes (FREE)
Guilty pleasure tv on the go! I use this app catch up on episodes of Gossip Girl and Hart of Dixie while I'm on the elliptical machine at the gym.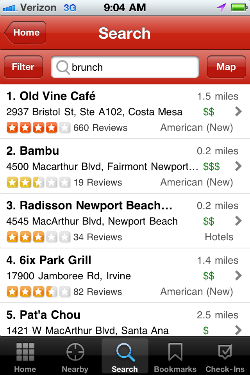 8. Yelp (FREE)
I love Yelp. You can search for restaurants, bars, coffee shops, and even shopping and read ratings and reviews for those things. The app uses your location to tell you what's nearby and will connect to the iPhone map to give you directions from your current location.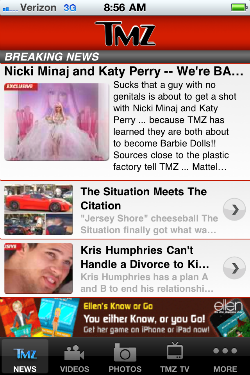 9. TMZ (Free)
This is my other guilty pleasure app. I can catch up on the latest Kardashian divorce drama and keep tabs on whether LiLo is meeting her community service obligations.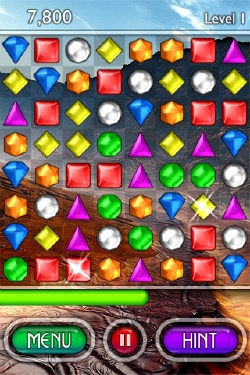 Bejeweled 2 + Blitz ($0.99)
I jumped at the chance to download this game one day when it was free. A lot of people love Angry Birds and Words With Friends (I have those, too...), but I have a longstanding love affair with with matching these sparkly jewels.

Now, it's your turn to share! What are your favorite apps? What am I missing out on?