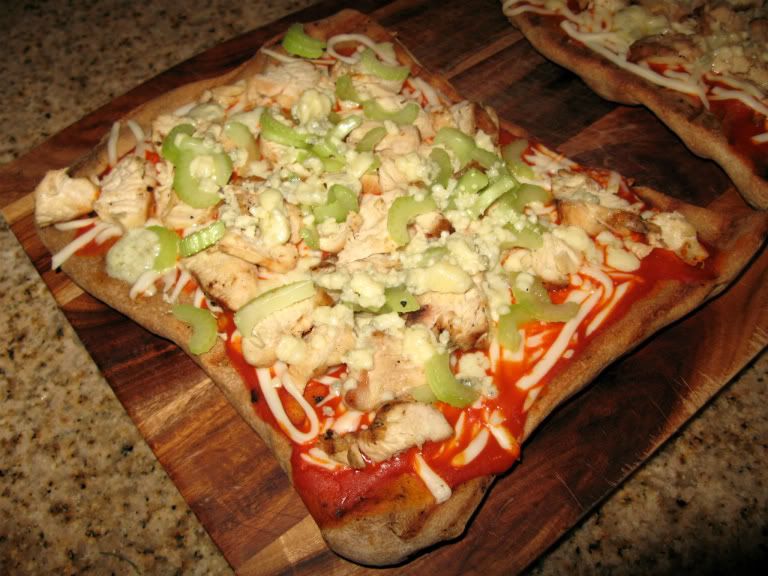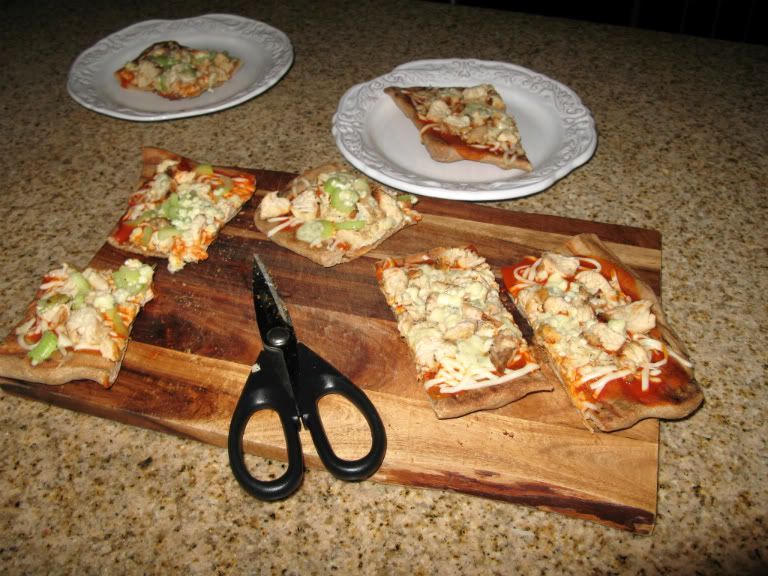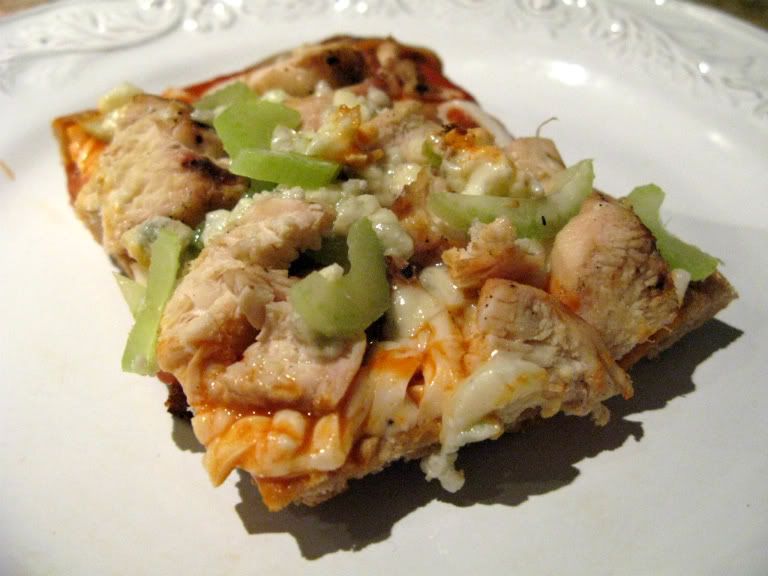 This is one of my favorite pizzas to make (and eat). Ever since I made my first grilled pizza, I've been hooked, and I doubt that I'll ever bake another pizza in the oven. This pizza is definitely a healthy alternative that completely satisfies any chicken wing cravings that you may have.
Or maybe I'm the only one who gets those...
Buffalo Chicken Grilled Pizza
Makes 8 slices
Pizza dough (I'm lazy and use the whole wheat pizza dough from Trader Joe's)
1/2 cup Buffalo Wing Sauce
6 oz lite shredded mozzarella cheese
1/2 lb. grilled chicken breast, cut into bite-sized pieces
2 celery stalks, cut into bite-sized pieces
2 oz. gorgonzola or blue cheese crumbles
Heat your grill to high. Shape the pizza dough as you wish and brush it with some olive oil. I find it easiest to do two smaller pizzas on the grill rather than one large one. Place the pizza dough on the grill for about 30 seconds to a minute--basically just until you can see some light grill marks. Flip the dough over and turn the grill heat down to medium or low depending on your comfort level and grill heat. Cook for about another 30-60 seconds. Brush the buffalo wing sauce onto the dough then pile mozzarella, chicken, celery, and gorgonzola crumbles onto the pizza. Close the grill lid and cook until cheese melts. Remove from grill when cheeses are melted to your satisfaction.
Enjoy!
NUTRITION (per slice): 209 Calories, 56.8 Calories from Fat, 6.31g Total Fat, 0.13g Saturated Fat, 28.13g Cholesterol, 898.13mg Sodium, 24.88g Total Carbohydrate, 4.25g Dietary Fiber, 0.25g Sugars, 14.88g Protein