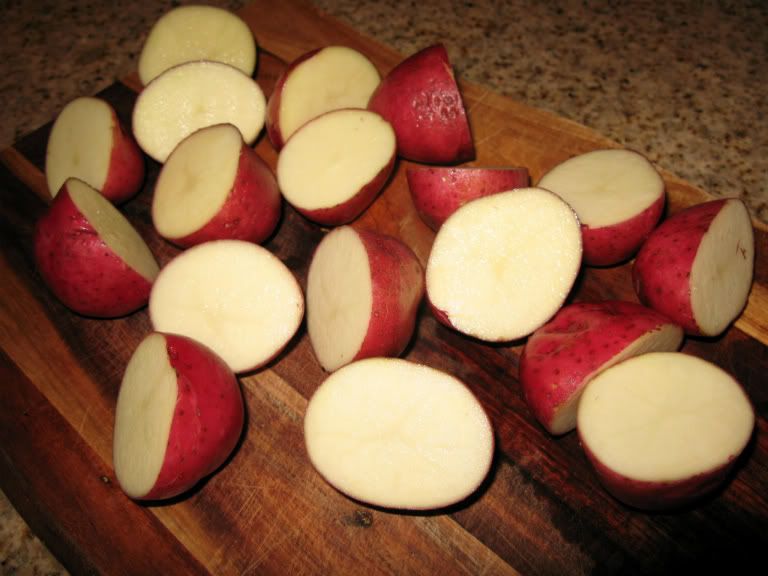 This is the first recipe that I've made out of my newest cookbook, the
Flat Belly Diet! Coobook
. These are amazing--so much so that I decided to add them to our
Thanksgiving Menu
for this year! I love potatoes with blue cheese (the cookbook recommends serving these with flank steak--yum!), and the walnuts and scallions just take these to another level. This is a really simple, healthy side dish recipe that I'm sure I will be making for years to come.
Roasted Potatoes with Blue Cheese-Walnut "Butter"
1 lb. thin-skinned baby potatoes, halved
1 1/2 T. extra virgin olive oil
1/4 t. freshly ground black pepper
1/8 t. salt
1/2 cup coarsely chopped walnuts
2 oz. crumbled blue cheese
2 scallions, thinly sliced
Preheat
the oven to 425°F. Coat a 9" baking dish with cooking spray or line with parchment paper. Place the potatoes in the prepared dish and toss with the oil, pepper, and salt. Turn cut side down in the pan. Roast for 30 to 35 minutes or until very tender and lightly golden on the underside.
Meanwhile,
put the walnuts in a small baking pan or skillet and place in the oven to toast for 6 to 8 minutes. Tip into a bowl and let cool. Add the blue cheese and scallions and crumble with your fingers.
When
the potatoes are done, turn them over and sprinkle evenly with the walnut mixture. Bake for 5 minutes longer or until the cheese is melted.
Makes 4 servings.