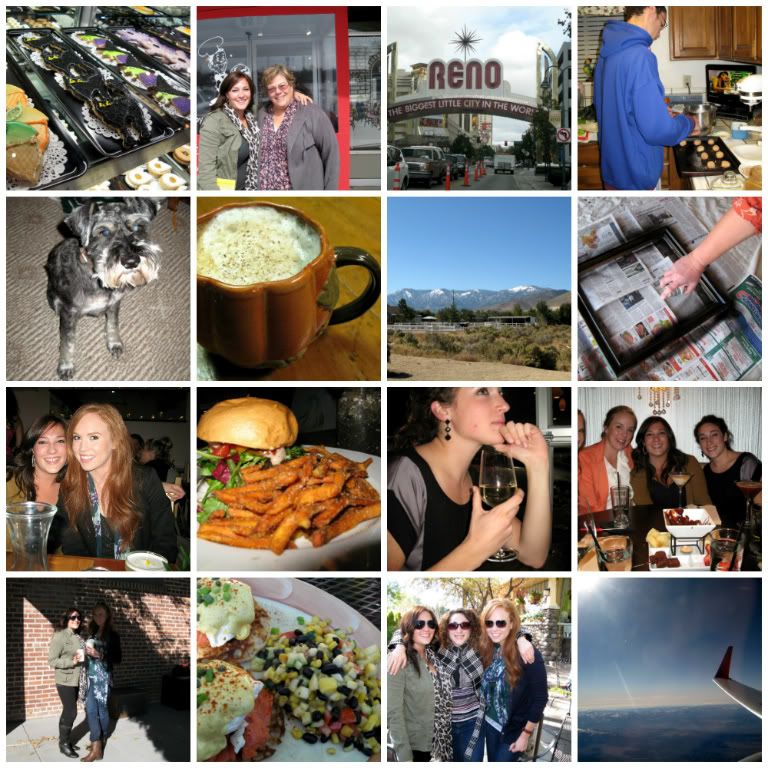 Scenes from my long weekend in Reno
I took a last-minute trip up to Reno over the weekend. I hadn't been home since Christmas, and it was so nice to see my family, friends, and old familiar places. My mom picked me up from the airport on Thursday morning, and we headed straight to my sisters' house to pick up Valerie and have brunch at
Josef's
(more on that tomorrow!). The rest of Thursday and Friday we stayed close to home and baked, made lattes, shopped, and started a small project which my mom will have to finish by herself : (
Friday night I headed up to Reno and met up with Katie, Jackie & Valerie at
Midtown Eats
for dinner and drinks. Midtown is a new restaurant in Reno, and I was very impressed--I had the Provencal (a lavender infused gin cocktail) and the Steak Salad. So delicious. Then Jackie, Katie & I headed over to
West Street Wine Bar
(one of my old favorites) to meet up with Tracy for a little girls' night out. I had so much fun hanging out with those girls--I really miss them.
The next morning I woke up super early to go to a friend's house to visit with her. She has a daughter who is about one and a half, and she is absolutely adorable! After that, Jackie, Katie & I met up at
Bibo
(no trip to Reno would be complete without some Bibo!) before heading over to
Stone House
for brunch where I had my favorite Smoked Salmon Benedict (seriously, to die for).
Even though I am now exhausted, I am so glad that I took the opportunity to go home before I start my new job today (oh yeah--I found a job!). I had so much fun seeing and catching up with everyone, and I miss them all so much. I have to make a point to go home more frequently.
How was your weekend?