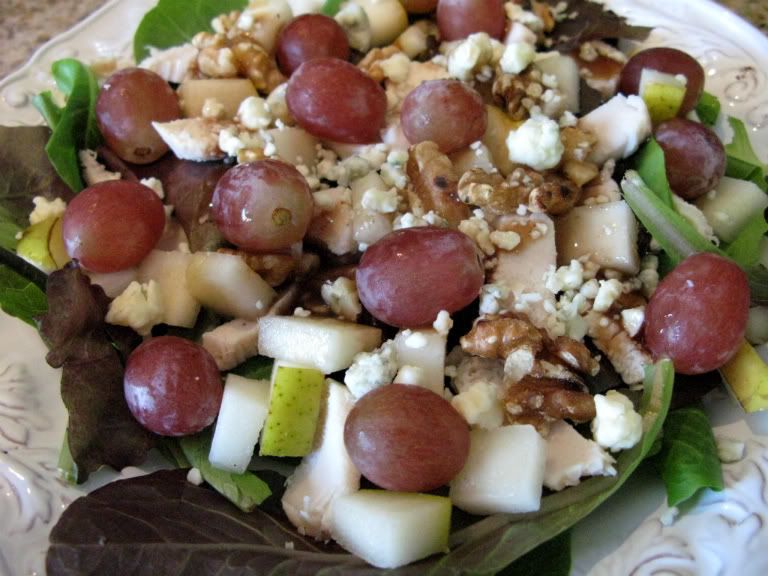 autumn-inspired salad
Now that it's fall I'm going to be using as many pears, grapes, pumpkins, squashes, figs, and apples as I possibly can! I was flipping through the Salads section in my CIA
Gourmet Meals in Minutes
cookbook, and I found a Mixed Green Salad with Pears, Walnuts and Blue Cheese salad. It sounded delicious, so I made it and added some grilled chicken, grapes, and some balsamic vinaigrette. As I was making it I thought to myself, "Justin is going to hate this." Fortunately I was wrong and he actually really liked it! This is definitely getting added into our little "family cookbook."
Update: here is the recipe, Sherril!
Mixed Green Salad with Pears, Walnuts & Blue Cheese
(adapted from the
CIA
)
Makes 2 servings
2 cups mixed greens
3 T. balsamic vinaigrette (I love the Fat-Free Balsamic Vinaigrette from Trader Joe's)
1/2 Bartlett pear, diced
1/4 cup walnuts, toasted
2 oz. blue cheese, crumbled
6 oz. chicken breast, grilled
1 cup red grapes
Toss the lettuce with the vinaigrette. Divide the lettuce between 2 plates. Top with the remaining ingredients (I use 2 oz. of grilled chicken for my salad and 4 oz. for Justin's--everything else I distribute evenly).