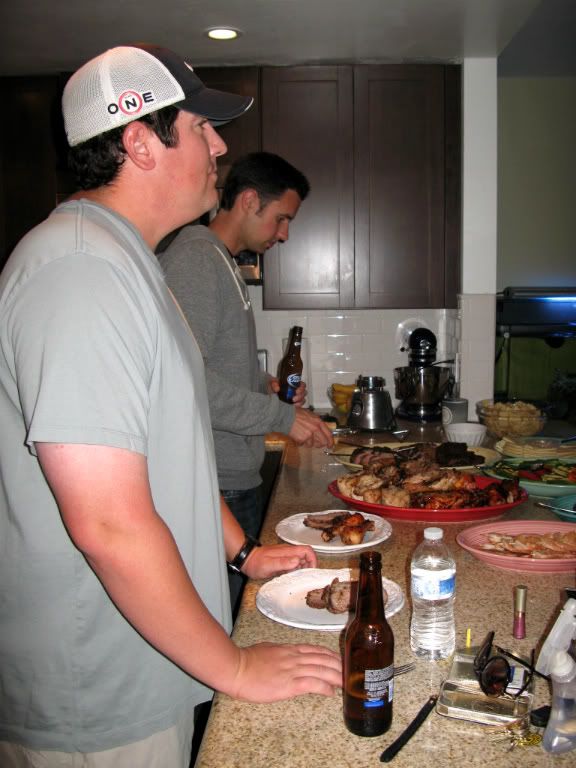 Justin and Charlie getting food/watching football game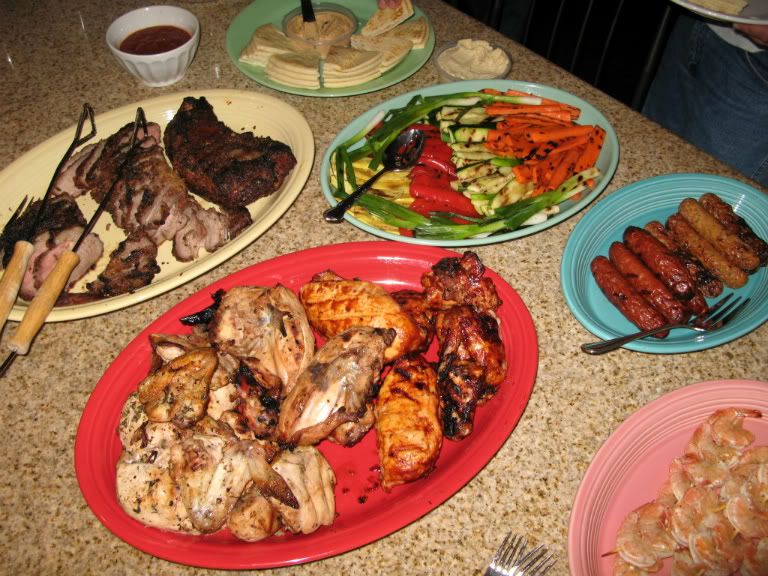 The spread--thank you so much to my mother and mother-in-law for all of their input and advice!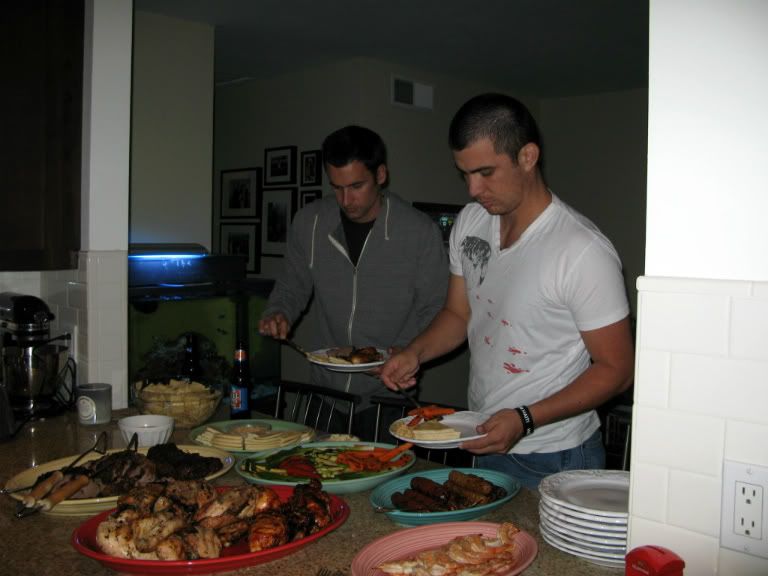 Charlie and Chris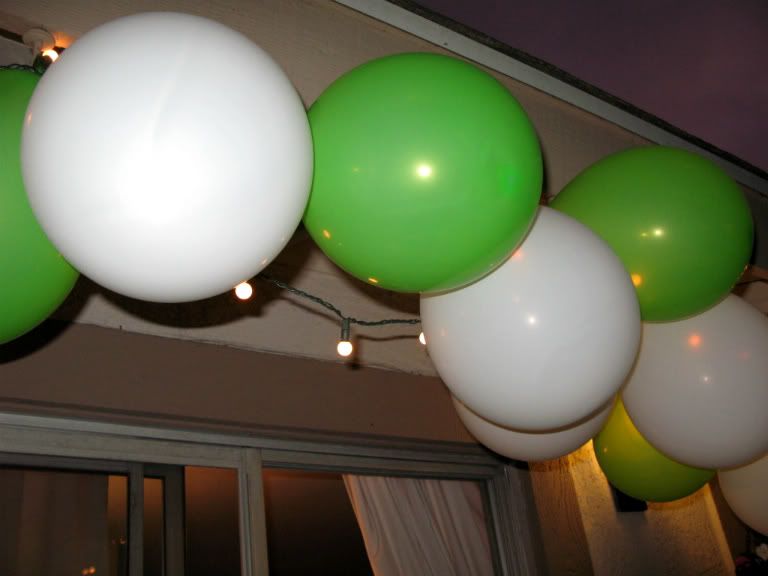 I made a balloon garland (like the one from my inspiration post!) and added some twinkle lights
Watching the game/talking about the game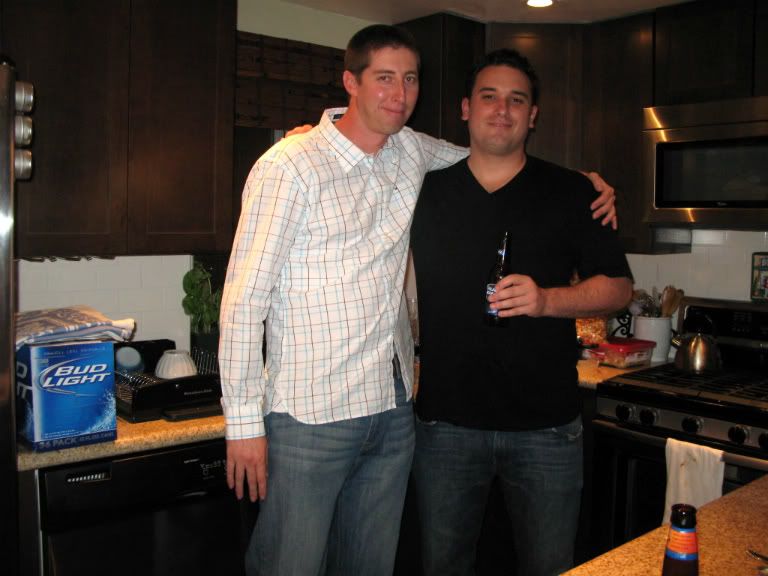 Phil and Jon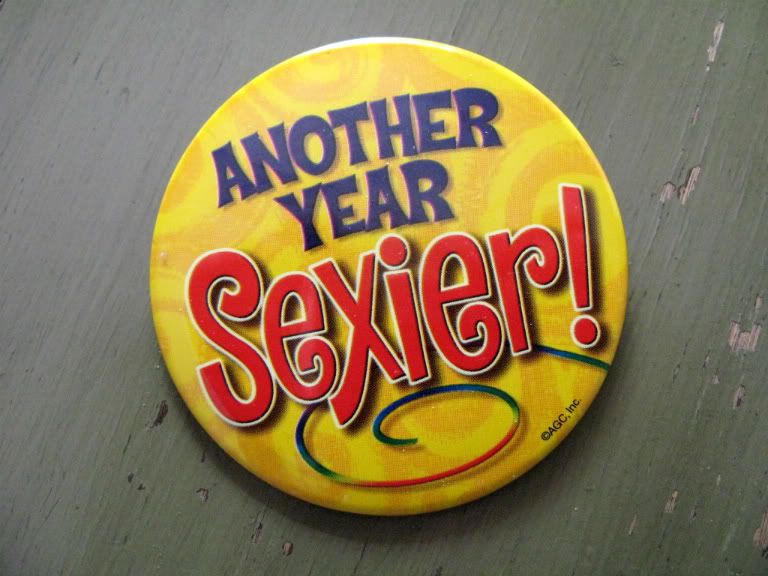 So true
Saturday night I threw a surprise party to celebrate Justin's 30th Birthday! It was so great because he had no idea and was totally surprised! He didn't want to have a party, but I couldn't just let such a big birthday just slide. So, to make sure that he would have fun, I kept everything really low-key by hosting a barbecue at our house for a small group of his friends and family. Justin was surprised, everyone had fun, and we didn't run out of food or beer, so I am considering this party a success!
I had so much fun planning this and putting it together especially since it was the first party that we were hosting at our condo! I was nervous about cooking for a group of guys who were all college athletes because I had no idea how much they would eat. I ended up making 3 tri-tips, 3 whole chickens, 1 pound of shrimp, and 2 packages of chicken sausages. Justin's mom helped me out and brought a huge platter of yummy roasted vegetables and some hummus and flatbread which the guys devoured. I prepared the tri-tip authentic Santa Maria style, and I made 3 different kinds of chicken: lemon and oregano, teriyaki, and barbecue. I will try to post the recipes soon! Justin doesn't really like or eat cake (I know, I know!), so for dessert I made brownies and some
microwave caramel corn
. Justin's 4 year old cousin came to the party and was very confused by the desserts--he told Justin's mom that he had never been to a birthday party without a birthday cake.
It's always fun for me to see Justin hanging out with all of his friends (most of them live at least an hour away, so we don't see any of them as often as we should). They're mostly guys that Justin played baseball with at Biola and most of them lived together during that time. They're all in the same fantasy baseball and football leagues so when they get together it's non-stop sports talk. I need to start having more parties just so that they can all see each other more often.