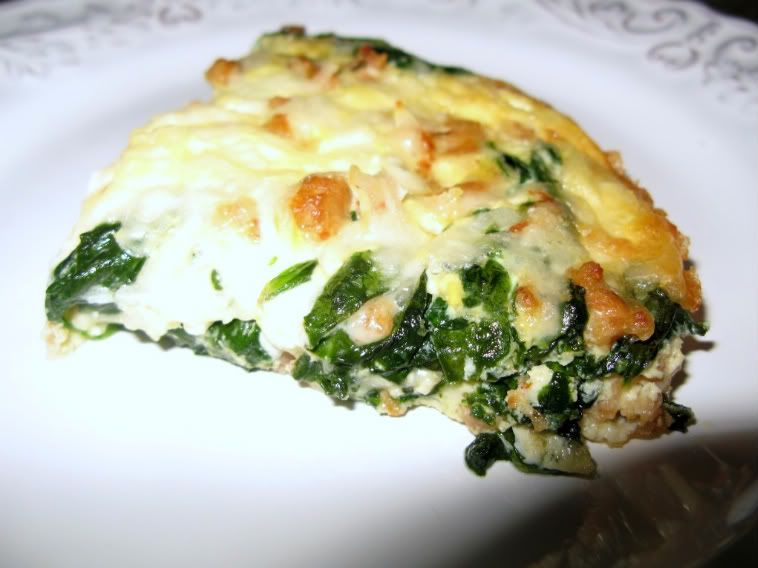 When I was growing up, my dad used to make pancakes on Saturday morning. I can't remember whether it was every Saturday, or just many Saturdays, but it was definitely something that would excite my sisters and me. While I no longer enjoy pancakes (possibly the result of a childhood overdose or an Atkins-induced fear of that many carbs or maybe a combination of both?), I like to make a special Saturday morning breakfast. Last weekend I was trying to use up what I had leftover in my fridge, and I ended up with this delicious frittata!
1/2 lb. sweet Italian chicken sausagebaby spinach (as much or as little as you like)2 eggs4 egg whites1/4 c. lite shredded mozzarella cheese
Heat over to 425. Use olive oil cooking spray to coat your pie pan. Remove the casings from the sausage and cook in a skillet until no longer pink. Add the baby spinach to the skillet and cook until wilted. Scramble the eggs and the egg whites in a medium bowl or large measuring cup. Add the sausage-spinach mixture to the eggs and mix together. Pour the egg mixture into the pie pan, top with mozzarella cheese, and bake about 15-20 minutes until done.
I am really good at using really basic ingredients, and really bad about using herbs and spices despite having several fresh herb plants in my kitchen. I feel like this might have been good with some sage? What do you think?