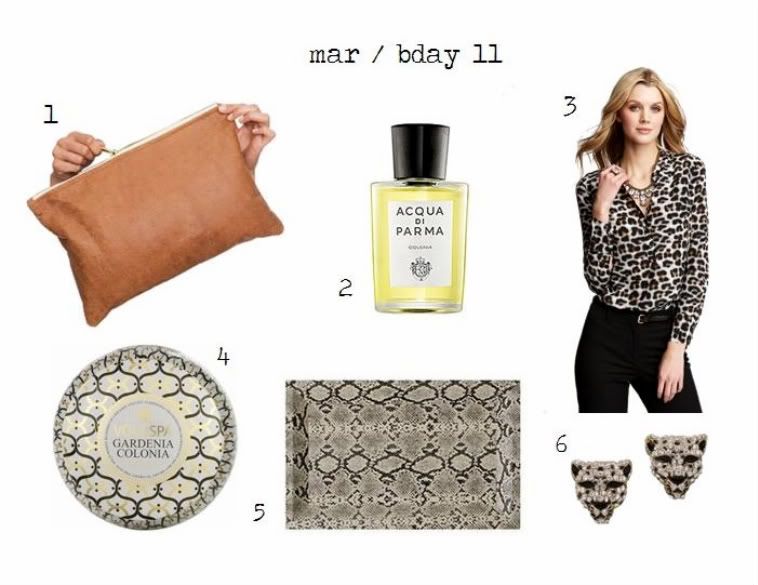 Wow! Where did February go? I can't believe that it's already March. Here's a list of things that have been catching my eye lately. This month, I'm all about glamour:
1. Medium Leather Carry-All Pouch in Tan
(
American Apparel
$45)
The Glamourai
brought this fabulous clutch to my attention, and I haven't been able to stop thinking about it. I love how simple it is, and it's the perfect size for day or night. I hope they come out with more colors soon!
2. Acqua di Parma Colonia
(
Sephora
$83)
I've been longing for a new scent lately--one that's a little fresher than what I typically wear (Miss Dior Cherie, Burberry or Michael Kors). Also, the pretty bottle is a plus as it will look so nice on my dresser!
3. Ikat Leopard Top
(
Ann Taylor
$88)
I've been keeping my eye out for the perfect leopard print blouse, and for me, this is it! It's not a cheesy print, and it's a nice cut for me. I feel like this is a piece that my daughter will want to steal from my closet one day.
4. Voluspa Gardenia Candle
(
Candle Luxury
$16)
I like light floral fragrances for the home, and I love burning candles. I'm thinking this might be the perfect "signature fragrance" for our home. Isn't the tin so pretty?
5. Small Faux Python Tray
(
Shop Furbish
$50)
This is perfect to hold my collection of perfumes on our dresser. I'm kind of obsessed with all things python right now, and I'm not really sure where it started...
6. Leopard Earrings
(
Shop Furbish
$18)
Apparently I am also obsessed with all things leopard. Aren't these so glamourous? I love them!