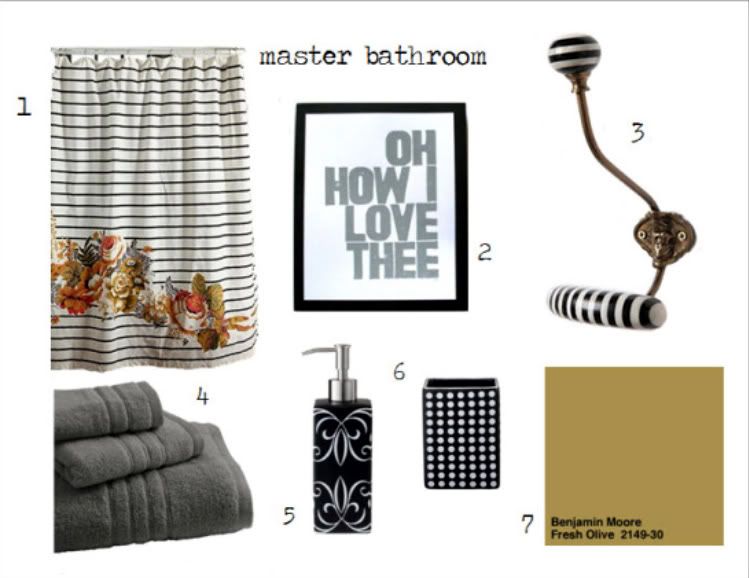 Remember
this post
about our bathrooms from forever ago? Well, I've finally pulled my act together and decided what I want to do with our master bathroom. Putting these little collages together is so helpful! I was originally planning to do something totally different altogether, but as I was adding the pictures to my board I realized that it was awful. So, here are my final choices.
1. Striped Cabbage Rose Shower Curtain (
urban outfitters
$38)
2. Oh How I Love Thee Grey Block Print (
etsy
$20)
3. B&W Wall Hook (
anthropologie
$18)
4. Lenox Bath Towels in Polished Platinum (
macy's
$12-$48)
5. Baroque Ceramic Soap Pump (
target
$12.99)
6. Baroque Ceramic Tumbler (
target
$8.99)
7. Benjamin Moore Fresh Olive (
benjamin moore
)
I have been in love with this shower curtain from the first time that I saw it pop up on the UO website, and it just happens to go perfectly with the BM Fresh Olive paint that is already in the room. Justin's aunt bought the Lenox towels for us as a wedding gift and I highly recommend them--they are so nice and big and soft. Justin and I both love artwork that is very graphic and modern, and I like that this ties in the grey towels which tie in the paint color in our bedroom. I'm kind of afraid of colors so I like to mix black and white prints, and I love the combination of the striped hook, scroll print soap dispenser, and polkadot tumbler (toothbrush holder). I'm excited to post some updated photos for you once I get this all put together!