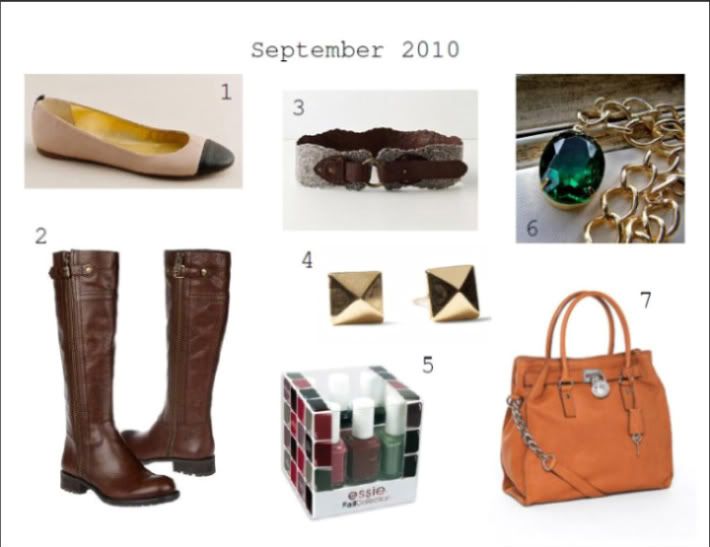 1 Abby toe cap ballet flats (
J.Crew
$128)
I'm feeling very accessories-oriented this month. I'm loving these Chanel-inspired ballet flats from J.Crew.
2 Franco Sarto Women's Panko (
shoes.com
$199)
Last fall, I purchased a gorgeous pair of flat black riding boots, and this fall I'm planning to get a slightly more rugged, yet still refined pair of flat brown boots (even though I am loving that the over-the-knee boots are still around for this season).
3 Enchanting Eyes Belt (
anthro
$54)
I recently discovered that I can wear belts, and now I am obsessed, and I picture myself wearing this particular beauty with my ivory lace pencil skirt and a chambray button-down.
4 Marc by Marc Jacobs Metal Studly (
piperlime.com
$32)
I've been feeling the need for some gold stud earrings for awhile, and these pyramid studs are perfect.
5 Essie Fall Collection 6pc (
essie
$48)
I have fallen in love with yet another collection from Essie.
6 I'm keeping this one a secret until I buy it...E-mail me for information.
Ever since Justin proposed to me, I've been feeling the need to build up a collection of timeless jewels. This necklace is stunning and I could see myself wearing it with everything from a little black dress to a black v-neck tee and jeans.
7 Michael Kors Large Hamilton Tote (
michael kors
$298)
Of course, my handbag pick for this season comes from Michael Kors. I LOVE this Birkin-ispired handbag which is right in line with the structured lady bags which are so popular right now. The vibrant orange color is way outside of my normal range of handbag colors, but I have fallen in love with it (and won't it look great with those brown boots?).